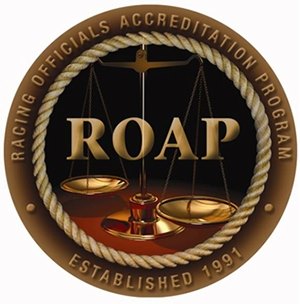 The Racing Officials Accreditation Program's (ROAP) board of directors elected its 2018-2020 officers during its March 27 board meeting and appointed two new board members.
Dan Fick, a ROAP-accredited steward and previously ROAP vice chairman, was elected ROAP chairman; Wendy Davis, director at the University of Arizona and previously ROAP secretary, was elected ROAP vice chairman; Jennifer Durenberger, ROAP-accredited steward and NYRA chief examining veterinarian, was elected ROAP secretary; and Kristin Leshney, senior counsel at The Jockey Club, was re-elected treasurer.
Previous ROAP chairman, Hugh Gallagher who served in this position for six years, will remain as a ROAP director.  
"I look forward to focusing my efforts on helping fulfill our mission to provide educational opportunities and resources for horse racing officials for all breeds," Fick said.
In addition to officer elections, two board members were appointed: John Campbell, as an at-large director, and Dr. Camie Heleski, who is representing the University of Kentucky's Ag Equine department.
Campbell brings a strong harness racing background to the board as president and CEO of the Hambletonian Society and a member of the U.S. Harness Racing Hall of Fame.
"The board is excited to have more harness input, and Mr. Campbell's depth in the industry in unmatched," said Fick.
At the meeting, the University of Kentucky's Ag Equine department was added as a member organization on the ROAP board. As its representative, Heleski brings a strong education background to the board, including distance learning expertise, which can further ROAP's mission to provide quality education to horse racing officials.
Condolences were offered during the board meeting to the family of board member Ned Bonnie, who passed in March. Bonnie was a long-standing ROAP board member and had a strong passion for our officials and advocated for qualified and well-compensated officials. He also brought his broad industry knowledge to the ROAP board.
Powered by WPeMatico